This report is the primary source of information about ASM. It provides a simple yet comprehensive overview of our financial and non-financial milestones as well as achievements 2019.
From this report, our stakeholders will learn about how we engaged the government and policy makers, our initiative, STEM awareness programmes, list of publications, strategic partners as well as our future goals. This report aims to demonstrate our credibility and strengthen the trust of our stakeholders.
The 2019 Annual Report will be divided according to functions.
Concept
The lightbulb has long been a symbol of ideas. The lightbulb shape populated with keywords such as "brilliant", "innovation", and "creative thinking" signifies ideas that are the manifestation of said positive values and many more within.
The colour yellow was selected for its optimism, enlightenment and creativity, aligning well with ASM's goal of bringing Malaysian STI to greater heights.
The selection of an informal and playful typeface reflects the dynamic and youthful energy that ASM possesses.
©Academy of Sciences Malaysia
Written and designed by the Academy of Sciences Malaysia
WHO WE ARE
ASM strives to be the nation's Thought Leader for matters related to science, engineering, technology and innovation.
ASM is committed to pursuing excellence in the fields of Science, Engineering and Technology (SET) for the benefit of all.
WHAT WE DO
ASM supports good science by endorsing activities of highest fulfilment to promote engagement, understanding and literacy in science, technology and innovation.
Taking science outside its box is often a delightful journey that leads us to interesting new directions filled with various types of engagements with people. At the end of the day, it is ASM's commitment to enhance the scientific capacity of the country.
Read More
FLAGSHIP STI STRATEGIC STUDIES & POLICY ADVISORY
Advisory Reports & Position Papers | Roadmap & Blueprint Development | Futures Thinking & Foresighting | National / Sectoral Policy | Review & Formulation | STI Due Diligence & Decision Intelligence | Rapid response on matters of national & international importance
INITIATIVES & PARTNERSHIPS
Expert-driven Studies | Science communication, enculturation & engagements | STI capacity building | Awards, grants and recognitions | STI strategic linkages
INTERNATIONAL NETWORK
National member in SCA, AASSA, IAP, APEC, ASEAN, TWAS | Young scientist programmes – CERN, Lindau, etc | Bidding international grants – ASEAN, APEC, etc
SCIENCE COMMUNICATION
Publications | ASM Science Journal | Corporate Communication | Public Relations | Media Engagements | Curation & Visualisation of Data
PILOT PROJECTS
iConnect – Malaysian Collaborative Network for Innovation | Malaysia Open Science Platform (MOSP)
ON THE EVE OF OUR SILVER JUBILEE
What a year it has been! I am very excited to continue my second term as the President of the Academy of Sciences Malaysia (ASM) – known for its leading role in science and technology sector, championing emerging technologies and sustainable future.
Throughout the Academy's history, while every year brings new challenges, we consistently work hard to achieve our goals. 2019 followed that precedent. Our programmes are expanding, more organisations are reaching out to us for consultative studies, our global presence is becoming more significant, and our expert network is expanding.
The work of ASM extends far beyond the cutting-edge areas of science. This year, we continued to provide our reliable and timely advice to the Government. We have participated in close to 430 meetings and workshops to understand our changing world and its trends, for a sustainable future. In our efforts to identify new ways to respond to the needs of the nation, ASM strives to enhance the national innovation ecosystem for wealth creation and societal well-being.
Aside from carrying out the mandate as the Government advisor in matters related to science and technology, the Academy has also been championing STEM-based programmes to promote greater interest among the youth. We also ensure that educators are better equipped to teach STEM subjects. Why the emphasis on STEM? Because the future demands it. In the global race for innovation, healthy economy, and sustainability, STEM is no longer just subjects in classroom. They are now more important than ever as we evolve into a more technology and innovation dependent world.
In 2019, we have elected 27 of Malaysia's leading scientists, engineers and technologists as new Fellows and welcomed nine Top Research Scientists Malaysia. Heartfelt congratulations to all, in particular to Academician Emeritus Professor Dato' Dr Khalid Yusoff FASc, for the appointment as ASM Senior Fellow. Our fellows actively contributed to the Academy's studies and policy matters, public outreach programmes, awards and funding, international activities and activities related to STEM.
At the same time, we continue to work closely with our international strategic partners to increase the flow of people and ideas among research environment. As science and technology progress, international collaboration is more important now than ever. Our active involvement and significant impact have enabled us to position ourselves on the same level as other scientific institutions.
IT BEGINS WITH MAKING CONNECTIONS
Collaboration is a powerful tool. It is the connections we form with others, and the different ways we collaborate that will help us grow to a new level. I personally believe there has never been a better time to collaborate. As the saying goes,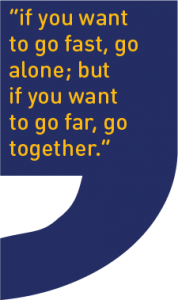 Finally, I would like to thank all those who have supported ASM through the many collaborations formed and engagements had, as well as the donations received, and input given. We certainly could not have achieved all of these without the supporters who wish to see science and technology as a vital component in shaping Malaysia's future.
COUNCIL MEMBERS
PROFESSOR DATUK DR ASMA ISMAIL FASc
President (2019-2022)
YM ACADEMICIAN TENGKU DATUK DR MOHD AZZMAN SHARIFFADEEN FASc
Vice-President (2018-2020)
DATUK PROFESSOR DR AWG BULGIBA AWG MAHMUD FASc
Secretary General (2019-2021)
DATUK DR ABDUL RAZAK MOHD ALI FASc
Honorary Treasurer (2019-2021)
ORDINARY COUNCIL MEMBERS (2018-2020)
IR DR AHMAD FAIZAL MOHD ZAIN FASc
PROFESSOR DR AHMAD ISMAIL FASc
ACADEMICIAN TAN SRI DATO' IR TS AHMAD ZAIDEE LAIDIN FASc
PROFESSOR DATIN PADUKA SETIA DATO' DR AINI IDERIS FASc
PROFESSOR DATO' DR AISHAH BIDIN FASc
IR TS CHOO KOK BENG FASc
DR HELEN NAIR FASc
ACADEMICIAN EMERITUS PROFESSOR DATO' DR KHALID YUSOFF FASc
PROFESSOR DATIN PADUKA DR KHATIJAH MOHD YUSOFF FASc
EMERITUS PROFESSOR DR PHANG SIEW MOI FASc
PROFESSOR DR SHAMALA DEVI K.C. SEKARAN FASc
PROFESSOR DATO' DR MOHD ALI HASSAN FASc
STRATEGIC INPUT FOR ROBUST STI ECOSYSTEMS
As we pursue our aspirations, we are ever-mindful of our purpose to address the needs of the nation by harnessing science, technology and innovation (STI) for socio-economic impact. This is intrinsic to our commitment to provide strategic input to policymakers, the scientific community, industry captains and community leaders to lay the foundation for reimagining our future and contribute to society in meaningful ways.
Read More
Being analytically rigorous, unbiased in the assessment of the evidence and responsive to changes is part of our work culture. Spanning a wide range of topics under the banner of STI Ecosystem & Governance, Emerging Technologies & Futures Thinking, Sustainability Science and Socio-economics, we analyse the data and synthesise the findings to give rise to insights and recommendations that are credible and responsible.
Our priority has always been to provide credible, timely and relevant input on STI related issues of national interest and international importance. Our input is based on multisectoral feedback, futuristic outlook and approaches that transcend conventional discipline boundaries. We package and communicate our input to policymakers, legislators, industry leaders and people at large. Let the quality and quantity speak for themselves.
Here at ASM, we are a team. Every individual, from the subject matter expert to the analyst, plays an important role interdependently. We tap on more than 700 brilliant minds of the nation for their expertise on emerging challenges. We connect what we learn globally to adapt and adopt to our local needs. Collaboration, engagement and diversity of thought lie at the core of how we work.
74
PUBLICATIONS TO DATE ON STI-RELATED ISSUES
---
CULTURE OF EXCELLENCE IN THE SCIENCES
You've probably heard a lot about STEM education in and out of your kid's school. That is good – it means more people are acknowledging the necessity of mastering STEM skills, thus creating more opportunities for us to show you why STEM is important (and can be fun too)!
But who can you partner with to organise STEM-based awareness programmes?
Read More
STEM are subjects at the very heart of ASM. We know first-hand the importance of educating our young people in these areas. Our country needs a constant supply of highly trained, highly capable talent. Through our STEM-related programmes, we aim to equip future generations with the skills to lead the future we desire one day.
Our country is facing a shortage of suitably qualified STEM graduates. ASM aims to inspire young people to pursue careers in STEM and ASM has responded by creating a national science programme called National Science Challenge (NSC), which exposes the youths to the complex and creative thinking. We aim to encourage more than one hundred thousand young people to join the programme by 2020.
Whether through empowering STEM educators, introducing initiatives or partnering with leading education organisations, ASM is committed to inspiring and preparing youth to pursue STEM careers.
UPGRADING TECH CAPABILITIES OF INDUSTRIES
Since Malaysia's shift from being an agricultural economy to an industrial economy, the need to elevate the nation's technological capabilities becomes more crucial in ensuring Malaysia is able to remain competitive and relevant.
One of ASM's objectives is to assist the nation in upgrading the technological capabilities of Malaysia's industrial sector.
Read More
ASM's expert network enables it to tap into scientific knowledge and remain close to industries to identify key areas of the industry that needs to be improved as well as new areas to be explored. These upgrading works ensure that the Malaysian industrial sector remains relevant, empowered and updated with the latest technological advances.
COLLABORATION IN INNOVATION: I-CONNECT
MESTECC and ASM embarked on a flagship initiative, Malaysian Collaborative Network Platform for Disruptive Innovation, known as i-Connect. i-Connect is an industry-led collaborative innovation network that involves the quadruple helix. It aims to nurture and establish a conducive innovation ecosystem in Malaysia towards increasing disruptive innovation through collaborative networks in order to enable Malaysian industries to leverage on the new economic opportunities in entering global emerging markets.
MALAYSIA'S GREAT WEALTH OF RESEARCH DATA
To ensure an efficient and sustained collaboration between the quadruple helix, MOSP was introduced. MOSP aims to make Malaysia's research data a valuable, shared national asset through the development of a trusted platform. MOSP also enables accessibility and sharing of research data that are aligned to national priorities and international best practices. MOSP will be led by the MOSP Alliance that will formulate the National Policy and Guidelines Management to create awareness as well as develop capacity and infrastructure for MOSP.
GIST INVESTORS MOBILISATION TRAINING PROGRAMME IN MALAYSIA
In collaboration with the Global Innovation through Science and Technology (GIST) and SIZZLESCIENCE, ASM jointly organised GIST Investors Mobilization Training Program in Malaysia together with several commercialisation players. This training aims to nurture and empower the potential local investors in science towards enhancing the commercialising of local STI-based technologies. This training has successfully exposed and educated the Malaysian Angels on the potential and advantages of investing in STI based start-up companies in Malaysia and global level.
SME CLINIC ON INDUSTRY 4.0: ANGEL INVESTORS INITIATIVE FOR HEALTHCARE SECTOR
ASM partnered with SEGi University and SIZZLESCIENCE to organise an SME Clinic on Industry 4.0 titled "Angel Investors Initiative for Healthcare Sector". The Clinic aims to empower investors and their networks with best practices of investing in early-stage science and technologybased startups. The programme also trains young researchers, scientists and healthcare practitioners on techniques to pitch their products or ideas to the potential investors.
PUBLIC AWARENESS & IMMERSION IN SCIENCE
Science is well respected by the society, but people often feel disconnected from it. Society must understand that science is not important only to scientists or researchers, or to any academy of sciences alone. It does not matter whether one finds science fascinating or the opposite – a base level of understanding is crucial for modern citizens, especially since we are now in the world where science and technology have taken over.
Read More
At ASM, we see how science can influence various fields, from mathematics to medicine. We explore science in both the natural and social world. Even with this broad scope, science is often seen as too complex and difficult for anyone, but the experts. Science is too valuable to be left to the professional scientists alone. For the good of society and for the future that we want, the public needs to understand science. In other words, science needs a broader community.
In an effort to increase public understanding and awareness in science, ASM organises various science-based programmes every year.
SCIENCE COMMUNICATION
SIMPLIFY BEAUTIFY AMPLIFY
Science communication is essentially an attempt to make science accessible to everyone. It makes hard scientific facts easy to understand and a joy to learn. Various media is used to cater to different methods of learning and different segments of society, so that maximum comprehension can be achieved. With the help of the social media, we are also ensuring that this valuable knowledge reaches as much audience as possible.
Drop us an email at:
science_comm@akademisains.gov.my
ASM FOCUS: e-Newsletter:
Issues  12
Articles  47
Readership 7,176
ENHANCING INTERNATIONAL NETWORKING AND COLLABORATIONS
ASM strives to be the Thought Leader in matters related to science, technology and innovation. To carry out this role to its best capabilities, ASM requires a strong connection to other organisations around the world. This enables ASM to initiate an exchange of knowledge and ideas.
Read More
Through its international network, ASM also facilitates its own scientific community to pursue excellence in science and technology. Plus, the relationship that ASM fosters in the global arena allows it to create impactful collaborations with various organisations to elevate Malaysian science to greater heights
EXPERT NETWORK
Experienced, brilliant, dedicated – our expert network comprises members who are ready to lead and collaborate to produce impactful results. The Academy now has more than 700 experts and the number keeps growing year by year.
ASM's expert network is always ready to contribute their valuable knowledge and wisdom to ensure ASM's programmes and studies pushes the envelope of Malaysia's STI advancement to greater heights.
FINANCIAL STATEMENTS
For a think tank like us, transparency is essential for proper valuation. The financial statements of ASM provide information on the health of our financial results and performance as well as cash flows.